A recent Accountemps survey revealed that office workers spend 21 percent of their time in meetings and feel that 25 percent of it is wasted. Read this blog post for seven steps to running better meetings.
---
We love to hate meetings. We groan about how annoying they are. We crack jokes about how much time gets wasted, about bureaucracy run amok.
But it's not really a laughing matter.
Poorly run meetings can sap the lifeblood out of an organization. Not only are they mentally draining, but they can leave staff disengaged and demoralized, experts say.
On average, office workers spend 21 percent of their time in meetings and feel 25 percent of it is wasted, according to the results of a recent survey of 1,000 employees by Accountemps. One of the top complaints was that meetings are called to relay information that could have been communicated via e-mail.
Managers are also dissatisfied. In a Harvard Business School study last year, researchers found that 71 percent of the 182 senior managers interviewed said meetings were unproductive and inefficient, and 65 percent said meetings kept them from completing their work.
Fortunately, leaders can help improve how meetings are run. Indeed, their behavior is critical to achieving better results and a more positive outlook and engagement from employees, according to a 2017 study published in the Journal of Leadership & Organizational Studies. In an earlier University of North Carolina study, researchers found a link between how workers feel about the effectiveness of meetings and their job satisfaction.
Other studies have found that dysfunctional communication in team meetings can have a negative impact on team productivity and the organization's success.
What happens in these gatherings is a reflection of the workplace culture, experts say.
"It gets down to identity and performance," says J. Elise Keith, co-founder of Lucid Meetings in Portland, Ore., and author of Where the Action Is (Second Rise, 2018). "The way in which an organization runs its meetings determines how it views itself."
"Bad meetings are almost always a symptom of deeper issues," Keith notes in her book.
Unfortunately, many business leaders don't receive adequate training on how to manage or facilitate meetings, she says. "I believe that a lot of leaders have bought into the idea that poor meetings are inevitable."
Here are 7 steps to making the time employees spend together more meaningful:
1. Prepare. Are you clear on the meeting's purpose? What is your desired outcome? How will you achieve that?
More prep time is typically devoted to senior-level meetings compared to those held for individuals in lower-level positions, says Paul Axtell, a corporate trainer and author of Meetings Matter (Jackson Creek, 2015). He says that executive get-togethers are more effective "because people take them seriously."
2. Limit the number of participants. The most productive meetings have fewer than eight participants, Axtell says. A larger group will leave some disengaged or resentful that their time is being wasted.
3. Send an agenda and background material in advance. If you want a thoughtful discussion, give your team members time to think about the problem or proposal that the meeting will focus on, he says.
4. Start and end on time. Don't punish people for being punctual by waiting on late stragglers to get started. At the same time, it's best not to jump right to the heart of the discussion in the first few minutes, Keith says. Provide a soft transition that will help those coming from other meetings to refocus.
5. Make sure all attendees can participate. One common complaint about meetings is that a few people tend to dominate the conversation. Call on other individuals to share what they think, Axtell says. Who is most likely to hold a different view? Who will be most affected by the outcome? Who has institutional knowledge that might be useful? Think about who to draw out on specific topics as you prepare. You'll collect more ideas and leave participants with a more positive experience.
To feel good about work, people need to feel included and valued. "That means you have a voice and are allowed to express your opinions," Axtell says.
Because you're a leader, your views already hold more weight. If you share them too early, you may discourage others from presenting alternate perspectives. Focus on listening, and stay out of the discussion as long as you can, he says. You might learn something.
Avoid PowerPoint slides or other technology if it's not required for an agenda item. They tend to shut down dialogue, Axtell says.
A surefire way for leaders to alienate participants is to use up most of the meeting time presenting a proposal and leave only a few minutes for questions and comments, Keith says. When people do speak up, thank them for their contributions. And use their ideas, she says.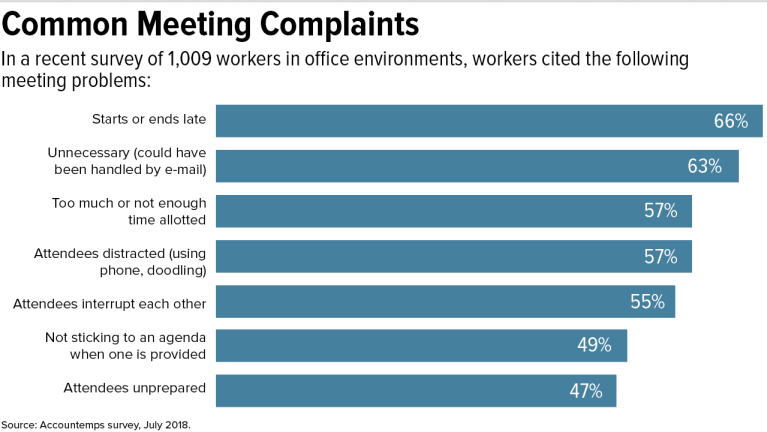 6. Keep a written record. Posting the meeting agenda and taking notes that everyone can access will help keep participants on track. Unfortunately, many organizations fail to do so, Keith says. The written record ensures that faulty memories or differing interpretations don't lead people down the wrong path. Are the notes detailed enough to allow you to tackle the action items days later? Are the deadlines reasonable? Be realistic. It doesn't help the team to accept a giant list of action items that it likely can't complete, she says.
7. Follow up. What percentage of the action items get completed by the deadlines? If you don't achieve 85 percent, participants' sense of effectiveness breaks down and they may disengage, Axtell says. Most groups complete just 50 percent to 60 percent.
"Whether you pay attention to them or not, meetings are in fact where your teams and your people are learning how they should behave and what they should be doing," Keith says. "So identify the specific types of meetings your organization needs to run. Find great examples of how to run those meetings. You shouldn't have to invent it. And set up a system that people can use successfully to become the organization that you want to become."
SOURCE: Meinert, D. (30 October 2018). "7 Steps to Running Better Meetings" (Web Blog Post). Retrieved from https://www.shrm.org/hr-today/news/hr-magazine/1118/pages/7-steps-to-running-better-meetings.aspx/