What was life like when you were a teenager? The world has been focused on understanding and adapting to Millennials. Now Generation Z is beginning to graduate and enter the workforce. Read this blog post for 10 things the world should know about Gen Z.
---
Think about what life was like when you were 16. The clothes you wore, the places you shopped. What was most important to you then?
Whenever I speak to an organization eager to learn about Generation Z, I always ask that question. I get responses that include everything from the fleeting fashion trends of the day (bell-bottom jeans, anyone?) to the time-honored tradition of getting a driver's license.
What I hope to achieve as a 16-year-old in 2018 is probably not all that different from what anyone else wanted when they were my age. It's the way people go about reaching their goals that evolves over time—and that's what also forms the basis of most generational clashes.
For the past several years, the world has been focused on understanding and adapting to Millennials, the largest and most-educated generation in history. Born between 1981 and the mid-1990s, this group has inspired important dialogues about generational differences and challenged all industries to evolve to meet their needs. In the workplace, Millennials have helped drive a greater focus on flexibility and collaboration and a rethinking of traditional hierarchies.
Of course, any analysis of generations relies on generalities that can't possibly describe every person or situation. It's important to remember that generations exist on a continuum—and that there is a large degree of individual variation within them. The point of this type of research is to identify macro trends among age groups that can help foster workplace harmony. Essentially, it's a way of attempting to understand people better by getting a sense of their formative life experiences. The generation to which one belongs is among the many factors, such as race, religion and socioeconomic background, that can shape how a person sees the world.
But there's little doubt that gaps among the U.S. generations have widened dramatically. For example, an 8-year-old boy in the United States who grew up with a tablet will likely have more in common with an 8-year-old in China who used a similar mobile device than he will with his 70-year-old U.S. grandparents.
In thinking about the generations, a key thing to understand is that these groups are typically categorized by events rather than arbitrary dates. Generation Z's birth years are generally recognized as 1996 to 2009. The start year was chosen so that the cohort would include only those who do not remember the Sept. 11 terrorist attacks. The belief is that if you were born in 1996 or later, you simply cannot process what the world was like before those attacks. For Generation Z, the War on Terror has always been the norm.
Like all other generations, mine has been shaped by the circumstances we were born into, such as terrorism, school shootings and the Great Recession. These dark events have had profound effects on the behavioral traits of the members of Generation Z, but they have also inspired us to change the world.
Earlier this year, XYZ University, a generations research and management consulting firm where I act as the director of Gen Z studies, surveyed more than 1,800 members of Generation Z globally and released a study titled "Ready or Not, Here Comes Z." The results were fascinating.
We discovered key characteristics about Generation Z and what the arrival of my generation will mean for the future of work. At 57 million strong and representing the most diverse generation in U.S. history, we are just starting to graduate from college and will account for 36 percent of the workforce by 2020.
Needless to say, Generation Z matters. And it is more important than ever for HR professionals to become familiar with the following 10 characteristics so that they know how to engage with my generation.
1. Gen Z Always Knows the Score
Members of this generation will put everything on the line to win. We grew up with sports woven into the fabric of our lives and culture. To us, the NFL truly does own a day of the week. But it's more than just professional, college or even high school teams that have shaped us; it's the youth sports that we played or watched throughout our childhoods. This is the generation of elite young teams and the stereotypical baseball mom or dad yelling at the umpire from the bleachers.
Our competitive nature applies to almost everything, from robotics to debates that test mental fortitude. We carry the mindset that we are not necessarily at school just to learn but to get good grades that will secure our place in the best colleges. Generation Z has been thrown into perhaps the most competitive educational environment in history. Right or wrong, we sometimes view someone else's success as our own failure or their failure as our success.
We are also accustomed to getting immediate feedback. A great example is the online grading portals where we can get frequent updates on our academic performance. In the past, students sometimes had to wait weeks or longer to receive a test grade. Now, we get frustrated if we can't access our scores within hours of finishing an exam—and sometimes our parents do, too.
2. Gen Z Adopted Gen X's Skepticism and Individuality
Generations are shaped by the behavioral characteristics of their parents, which is why clumping Millennials and Generation Z together is a mistake. In fact, when it comes to each generation's behavioral traits, Millennials are most similar to their parents—the Baby Boomers. Both are large, idealistic cohorts with influences that will shape consumer and workplace behavior for decades.
Members of Generation Z, on the other hand, are more akin to their parents from Generation X—a smaller group with a skeptical, individualistic focus—than they are to Millennials. That's why many generational traits are cyclical. Just because Millennials and members of Generation Z are closer in age does not necessarily mean they share the same belief systems.
3. Gen Z Is Financially Focused
Over the past 15 to 20 years, HR professionals have been hyper-focused on employee engagement and figuring out what makes their workers tick. What drives someone to want to get up in the morning and come to work for your organization?
As it turns out, workplace engagement matters less to Generation Z than it did to previous generations. What's most important to us is compensation and benefits. We are realists and pragmatists who view work primarily as a way to make a living rather than as the main source of meaning and purpose in our lives.
Obviously, we'd prefer to operate in an enjoyable environment, but financial stability takes precedence. XYZ University discovered that 2 in 3 Generation Zers would rather have a job that offers financial stability than one that they enjoy. That's the opposite of Millennials, who generally prioritize finding a job that is more fulfilling over one that simply pays the bills.
That financial focus likely stems in part from witnessing the struggles our parents faced. According to a study by the Pew Charitable Trust, "Retirement Security Across Generations: Are Americans Prepared for Their Golden Years?," members of Generation X lost 45 percent of their wealth during the Great Recession of 2008.
"Gen X is the first generation that's unlikely to exceed the wealth of the group that came before it," says Erin Currier, former project manager of Pew's Economic Mobility Project in Washington, D.C. "They have lower financial net worth than previous groups had at this same age, and they lost nearly half of their wealth in the recession."
Before Generation Z was decreed the 'official' name for my generation, there were a few other candidates, including the 'Selfie Generation' and 'iGen.'
Employers will also need to recognize that members of Generation Z crave structure, goals, challenges and a way to measure their progress. After all, the perceived road to success has been mapped out for us our entire lives.
At the same time, it's important to be aware of the potential for burnout among young overachievers—and to incorporate fun and breaks into the work environment and provide access to healthy escapes focused on relaxation and stress relief.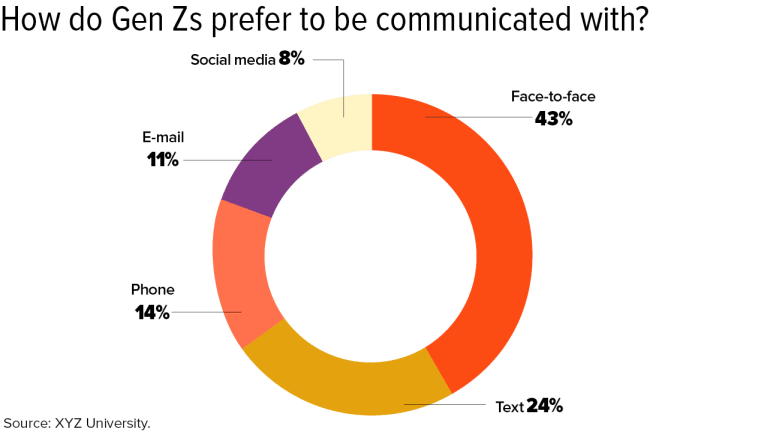 4. Gen Z Is Entrepreneurial
Even though they witnessed their parents grapple with financial challenges and felt the impact of the worst economic meltdown since the Great Depression, members of Generation Z believe there is a lot of money to be made in today's economy. Shows like "Shark Tank" have inspired us to look favorably on entrepreneurship, and we've also seen how technology can be leveraged to create exciting—and lucrative—business opportunities with relatively low overhead. Fifty-eight percent of the members of my generation want to own a business one day and 14 percent of us already do, according to XYZ University.
Organizations that emphasize Generation Z's desire for entrepreneurship and allow us space to contribute ideas will see higher engagement because we'll feel a sense of personal ownership. We are motivated to win and determined to make it happen.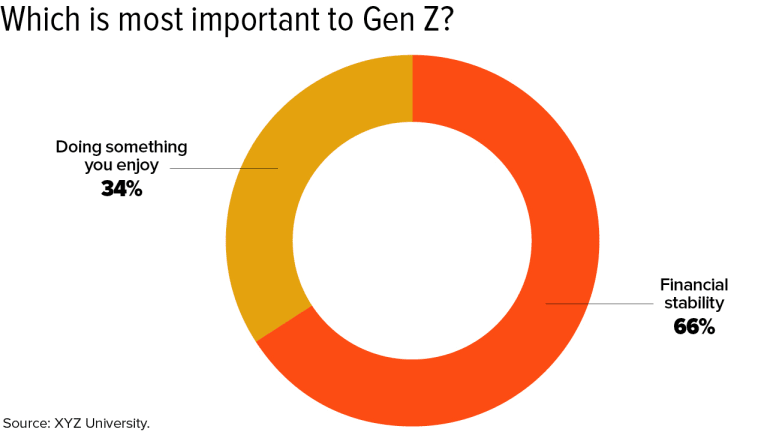 5. Gen Z Is Connected
Before Generation Z was decreed the "official" name for my generation, there were a few other candidates, including the "Selfie Generation" and "iGen."
I find those proposed names both condescending and misleading. While it's often assumed that Generation Z is focused solely on technology, talking face to face is our preferred method of communication. Sure, social media is important and has undoubtedly affected who we are as a generation, but when we're communicating about something that matters to us, we seek authenticity and honesty, which are best achieved in person.
"Gen Z has the power of technology in their hands, which allows them to communicate faster, more often and with many colleagues at one time; but it also brings a danger when it's used as a crutch for messages that are better delivered face to face," says Jill Katz, CHRO at New York City-based Assemble HR. "As humans in the workplace, they will continue to seek empathy, interest and care, which are always best received face to face."
XYZ University's research found that cellphones and other electronic devices are primarily used for the purpose of entertainment and are tapped for communication only when the face-to-face option isn't available.
However, successfully engaging with Generation Z requires striking a balance between conversing directly and engaging online. Both are important, and we need to feel connected in both ways to be fully satisfied.
6. Gen Z Craves Human Interaction
Given that members of Generation Z gravitate toward in-person interactions, HR leaders should re-evaluate how to best put the "human" aspect back into business. For example, hiring processes should emphasize in-person interviews more than online applications.
A great way to engage us is to hold weekly team meetings that gather everyone together to recap their achievements. Although members of Generation Z don't necessarily need a pat on the back, it's human nature to want to feel appreciated. This small gesture will give us something to look forward to and keep us feeling optimistic about our work. In addition, we tend to work best up against a deadline—for example, needing to have a project done by the team meeting—due to our experience facing time-sensitive projects at school.
7. Gen Z Prefers to Work Independently
Millennials generally prefer collaborative work environments, which has posed a challenge to conventional workplace cultures and structures. In fact, many workplaces have eliminated offices and lowered cubicle walls to promote more interaction. Yet recent studies indicate that totally open offices may actually discourage people from working together. The noise and lack of privacy could prompt more people to work at home or tune others out with headphones. Since different types of work require varying levels of collaboration, focus and quiet reflection, ideal workplaces incorporate room for both togetherness and alone time.
It's important to be aware of the potential for burnout among young overachievers—and to incorporate fun and breaks into the work environment and provide access to healthy escapes focused on relaxation and stress relief.
The emphasis on privacy will likely only intensify under Generation Z. Unlike Millennials, we have been raised to have individualistic and competitive natures. For that reason—along with growing research into optimal office design—we may see the trend shift away from collaborative workplaces toward more individualistic and competitive environments.
8. Gen Z Is So Diverse That We Don't Even Recognize Diversity
Generation Z marks the last generation in U.S. history where a majority of the population is white. Given the shifting demographics of the country, we don't focus as much on someone's color, religion or sexual orientation as some of our older counterparts might. To us, a diverse population is simply the norm. What we care about most in other people is honesty, sincerity and—perhaps most important—competence.
Indeed, we have been shaped by a society that celebrates diversity and openness. A black man occupied the White House for most of our lives, and we view gay marriage as a common and accepted aspect of society.
9. Gen Z Embraces Change
Compared to teenagers of other generations, Generation Z ranks as the most informed. We worry about our future and are much less concerned about typical teen problems, such as dating or cliques, than we are about becoming successful in the world.
The chaos and unrest in our political system have inspired us to want to get involved and make a difference. Regardless of which side of the aisle we are on, most of us are informed and passionate about the issues facing our society today. Witness, for example, the students of Marjory Stoneman Douglas High School in Parkland, Fla., who organized a political movement around gun control in the wake of a mass shooting at their school.
Social media allows us to have a voice in our political system even before we can vote. This opportunity has forced us to develop critical-thinking and reasoning skills as we engage in sophisticated debates about important issues that might not even affect us yet.
"Gen Z has a strong ability to adapt to change," says Paul Carney, an author and speaker on HR trends and a former HR manager with the Navy Federal Credit Union. "For those of us who have spanned many decades in the workplace, we have seen the rate of change increase and it makes most of us uncomfortable. Gen Z are the people who will help all of us adapt better."
According to numerous polls, the political views of Generation Z trend fiscally conservative (stemming from our need for financial stability) and socially liberal (fueled by diverse demographics and society).
10. Gen Z Wants a Voice
Given how socially aware and concerned its members are, Generation Z seeks jobs that provide opportunities to contribute, create, lead and learn.
"One of the best ways I have seen leaders engage with Gen Z is to ask them how they would build a product or service or design a process," Carney says. "Gen Z has some amazing abilities to bring together information, process it and take action. When we do allow them to share ideas, great things happen."
We're also an exceptionally creative bunch. Managers will need to give members of this generation the time and freedom to come up with innovative ideas and accept that, despite our young age, we have valuable insights and skills to offer—just like the generations that came before us and those that will follow.
Josh Miller is a speaker, researcher and thought leader on all things Generation Z. He is the director of Gen Z studies at management consulting firm XYZ University and a high school junior in suburban Minneapolis.
Illustration by Tim McDonagh
SOURCE: Miller, J. (30 October 2018) "A 16-Year-Old Explains 10 Things You Need to Know About Generation Z" (Web Blog Post). Retrieved from https://www.shrm.org/hr-today/news/hr-magazine/1118/pages/a-16-year-old-explains-10-things-you-need-to-know-about-generation-z.aspx